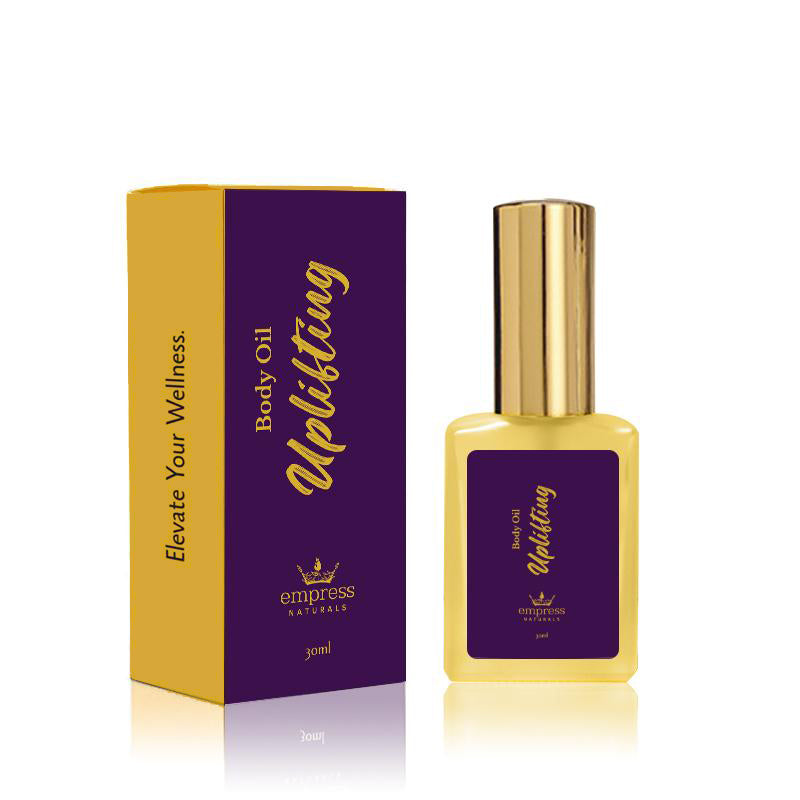 A Promise We Make
We Ensure
Careful Packaging

US Shipping ONLY

Clean
Purely invigorating, Uplifting, is a rejuvenating take on aromatherapy through body oils.  Crafted with meticulous care, this elixir is a fast-absorbing luxurious treatment that infuses your self-care routine with an uplifting essence that transcends the ordinary. 
A harmonious fusion of lemon's uplifting zest and eucalyptus' invigorating herbal notes creates an aromatic symphony that envelops you and enlivens your spirit. 
Immerse yourself in a sensorial oasis, as these aromatic notes dance gracefully atop a luxuriously moisturizing blend of certified organic carrier oils, and our hero ingredient Rosehip Seed Oil. Delight in a mood-lifting, spirit-brightening, and fatigue-fighting embrace that is both a fragrant revelation and an embodiment of radiant and youthful skin.
Body oil perfume blended by Master Botanical Alchemist & Perfumer Michael Scholes
Ingredients: 
Helianthus Annuus*, (Sunflower Oil) - softens and conditions 
Prunus Armeniaca (Apricot Kernel Oil) - soothes 
Persea Gratissima (Avocado Oil) - moisturises 
Caprylic/Capric triglyceride* (Fractionated Coconut Oil) - hydrates
Rosa Rubiginosa* (Rosehip Oil) - rejuvenates
Vitamin E (Tocopherol) - nourishes
Cymbopogon Martinii (Palmarosa Oil) - balances
Eucalyptus Staigeriana (Eucalyptus Oil) - revitalises 
Citrus Limon (Lemon Oil) - invigorates
Citrus Limon (Lemon distilled Oil) - uplifts
Aloysia Citrodora (Lemon Verbena Oil) - repairs
*Certified Organic
Benefits: 
Uplifts your mood: Lemon essential oil has been linked to increasing levels of serotonin, resulting in improved mood and well-being. 
Brightens your spirit: Invigorating lemon and soothing rosehip seed oil and palmarosa helps clear away mental fog and improve cognitive functioning.
Energizes you physically: Eucalyptus, known for its revitalizing properties, provides a physical boost, invigorating your body and awakening your senses. 
Reduces fatigue: Avocado, rich in Vitamin E and fractionated coconut oil, abundant in fatty acids, improves physical energy levels as well as the appearance of dull-looking skin. 
Calms the nervous system: The calming properties of palmarosa and rosehip seed oil work harmoniously to create a sense of inner tranquility.
Aroma: This carefully crafted invigorating blend combines the zesty essence of lemon with the crisp, herbaceous notes of eucalyptus to create a fresh and revitalizing aroma. The subtle sweetness of lemon verbena and the soft, floral essence of palmarosa further enhances its effects. These invigorating scents are carried by a luxurious base of carrier oils and Rosehip Seed Oil to offer an overall moisturizing and uplifting experience. 
How to use: Use 2-3 pumps of Uplifting Body Oil on wet or dry skin and rub in until absorbed. For best results, use after a shower. 
PRE ORDER TODAY! 
~Holiday Limited Edition~
Be one of the first to get your hands on the Uplifting Body Oil. 
Expected Dispatch Period: November, 2023