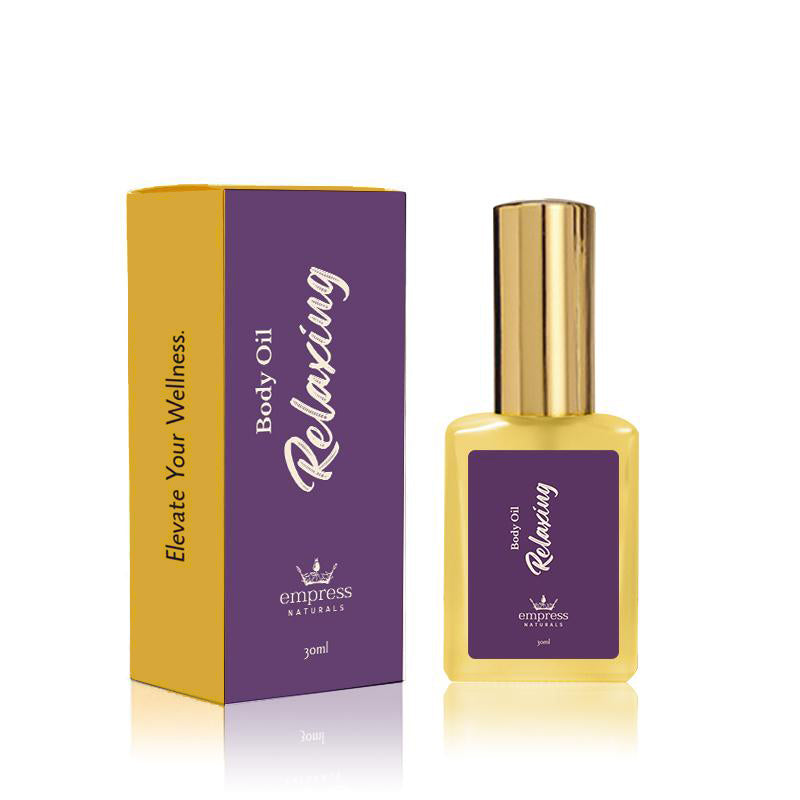 A Promise We Make
We Ensure
Careful Packaging

US Shipping ONLY

Clean
Relaxing is your therapeutic gateway to an exquisite self-love experience. It is more than just a body oil—it's a sanctuary of tranquility. As you unscrew the bottle, your first impression will be of a soft, comforting sweetness, akin to the gentlest whisper of blooming flowers on a warm summer evening. Beyond skincare, Relaxing is a part of your holistic wellness journey that unwinds your body and mind, instills spiritual calm, and grounds your senses. 
The gentle caress of sweet almond oil seamlessly mingles with the calming notes of lavender, while ylang-ylang lends a touch of exotic sweetness reminiscent of a midnight garden.
As the oil moisturizes your skin from within, it also renews and heals, bestowing a radiant, rejuvenated glow. This blend of certified organic botanicals celebrates nature's tranquility, elevating your self-care ritual. It caresses your senses, providing a calming embrace that eases you into a state of blissful repose.

Body oil perfume blended by Master Botanical Alchemist & Perfumer Michael Scholes

Ingredients: 
Prunus Amygdalus Dulcis* (Sweet Almond Oil) - soothes 
Caprylic/Capric triglyceride* (Fractionated Coconut Oil) - hydrates
Simmondsia Chinensis* (Jojoba Seed Oil) - balances
Oenothera biennis* (Primrose Oil) - suppleness
Camellia Oleifera* (Camellia Oil) - protects 
Rosa Rubiginosa* (Rosehip Oil) - rejuvenates
Vitamin E (Tocopherol) - nourishes
Lavandula Officinalis (Lavender Oil) - calms mind
Cananga Odorata (Ylang Ylang Oil) - promotes relaxation
Chamaemelum Nobile (Roman Chamomile Oil) - helps unwind 
*Certified Organic
Benefits: 
Unwinds physically and mentally: the unique blend of essential oils is known for its calming properties to promote physical and mental relaxation.
Spiritually calming: the exotic and sweet aroma of ylang-ylang has been associated with promoting spiritual and emotional well-being.
Helps ground the mind and body: roman chamomile and lavender help ease mental restlessness and provide a sense of stability, supporting a grounded mindset.
Moisturizes from within: maintains the skin's moisture barrier and prevents transepidermal water loss.
Renews and heals skin: camellia oil, rosehip oil, and primrose oil, rich in essential fatty acids and vitamins are known to promote skin rejuvenation. 
Aroma: The delicate embrace of sweet almond oil mingles with the light, herbal notes of lavender, while ylang-ylang adds a floral, sultry sweetness. A harmonious blend of camellia oil and rosehip seed oil contributes to the bouquet with its gentle, floral elegance. Meanwhile, the soothing, apple-like undertones of roman chamomile and the nourishing essence of primrose oil create a tranquil aura that lingers on your skin, evoking a sense of calm and relaxation.
How to use: Use 2-3 pumps of Relaxing Body Oil on wet or dry skin and rub in until absorbed. For best results, use after a shower. 
PRE ORDER TODAY! 
~Holiday Limited Edition~
Be one of the first to get your hands on the Relaxing Body Oil. 
Expected Dispatch Period: November, 2023