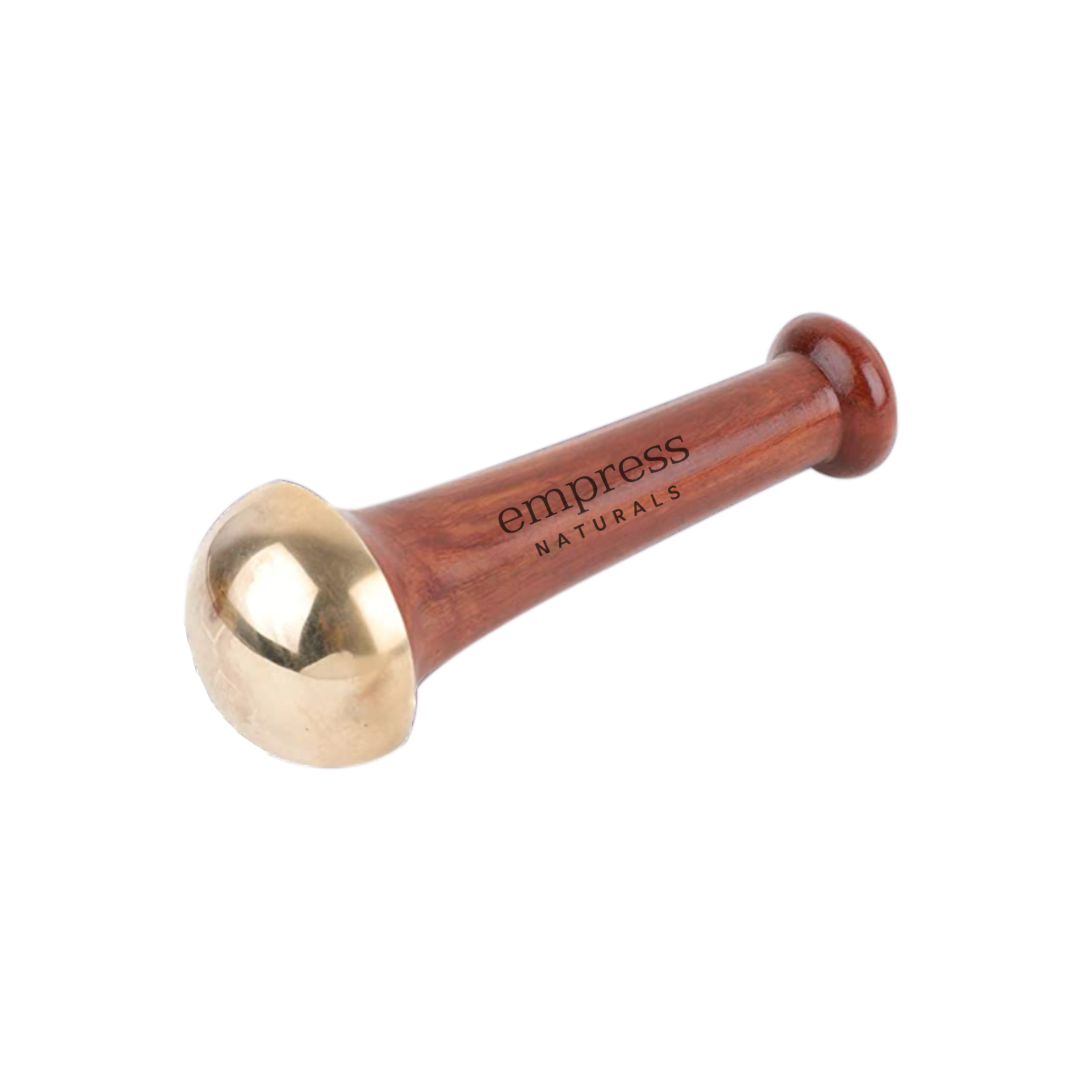 BRONZE KANSA WAND: PURIFYING MASSAGE TOOL
A Promise We Make
We Ensure
Careful Packaging

US Shipping ONLY

Clean
Description 
Elevate your skincare routine by integrating a time-honored massage technique dating back 5,000 years. The Empress Kansa Wand, an ancient Ayurvedic tool that predates popular tools like the jade roller and gua-sha, originated during the bronze age in India. 
The Kansa Wand reduces puffiness and softens fine lines while stimulating energy flow. Incorporate this tool into your regimen to alleviate muscular tension, eliminate toxins, decrease inflammation, oxygenate the skin, and diminish the appearance of fine lines and wrinkles. 
Unveil your inner beauty by indulging in a weekly facial massage.
How it Works
Bronze, being highly conductive, can effectively restore and rejuvenate the body's electrical system, promoting balance and revitalization. 
The copper in bronze possesses anti-inflammatory properties that aid in alleviating inflammation, pain, and arthritis, as well as supporting hemoglobin formation. Meanwhile, tin is believed to be beneficial for digestion, headaches, and insomnia. 
When the bronze massager is used with oil, the gentle friction it produces may draw out toxins from body tissues, leading to the discoloration of the oil into black.
Why You Need It 
Promotes lymphatic drainage, aiding in toxin elimination and resulting in a brighter and clearer complexion.
Restores skin pH balance, reducing acne, inflammation, and wrinkles.
Alleviates stress, relaxes muscles, and enhances energy flow
Enhances complexion and glow by increasing circulation and promoting healthier skin.
How to Use 
Use weekly in your nighttime routine with an oil-based serum like our Luxe Night Elixir (sold separately).
In upward strokes, gently massage the forehead, cheekbones, and jaw muscles for 10 minutes.
You may notice a gray tint on your face after you finish using the wand. Do not worry, this is expected and a positive sign! It is an indication of toxins being eliminated and bringing your skin to an elevated level of balance.
Proceed to wash your face with a gentle cleanser.
Quality 
Kansa is a sacred type of metal made by combining copper & tin in a ratio of 4:1.
Your Empress Kansa Wand is made of a 100% teakwood handle with a base of pure Kansa (80% copper and 20% tin) 
FAQ's 
How Should I Care for the Kansa Wand?
To ensure the longevity of your Kansa Wand, follow these maintenance tips. After each use, gently wipe the wand clean. If necessary, you can use soap and water specifically on the metal part. For a more thorough cleaning, you can create a paste using tea tree oil and Fuller's earth clay. 
What Skin Benefits Can I Anticipate?
Upon immediate use, you may notice the visual manifestation of toxins being expelled from your skin, represented by a slight grayness. This indicates the balancing of your skin's pH. As you continue using the Kansa Wand, expect to witness improvements in the appearance of your skin. It will become more supple, firm, and beautifully sculpted, showcasing the benefits of regular use.