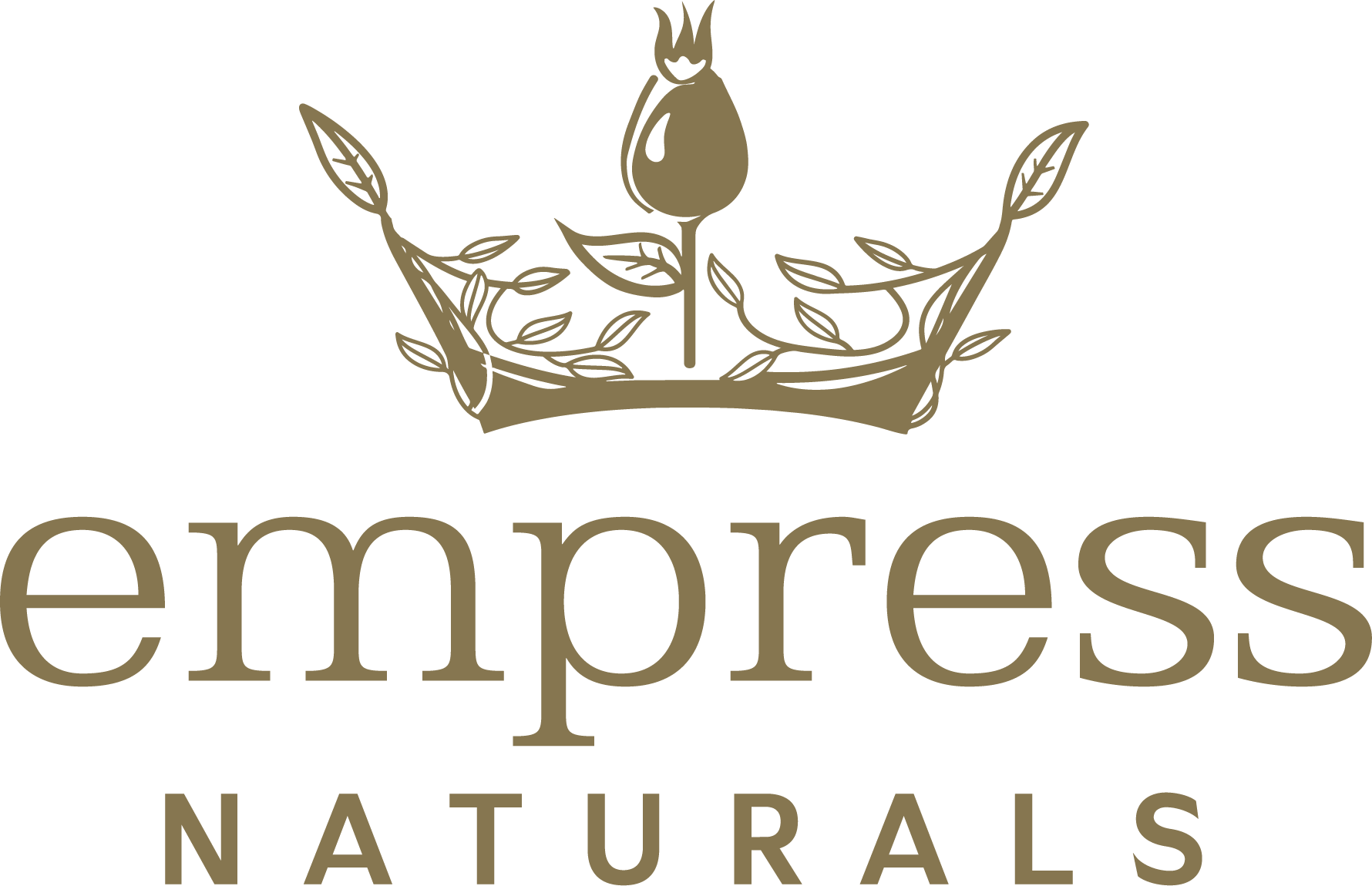 Empress Global was formed from the desire to create sustainable
and approachable skincare for the modern woman. We use no
artificial ingredients or components that you can't pronounce. Our products are
sourced ethically and meticulously researched by some of the
best formulaters & scientists scientists.
.
Sulfates – SLS + SLES,
- Parabens - - -
- Formaldehydes
- Formaldehyde-releasing agents
- Phthalates
- Mineral Oil
- Retinyl Palmitate
- Oxybenzone
- Coal Tar
- Hydroquinone
- Triclosan
-Triclocarban
OUR COMMITMENT TO SUSTAINABILITY
For better skincare and a better planet
- Ethical suppliers:
We strive to reduce our environmental footprint through sourcing from ethical farms. Through your purchase, you help support sustainable agricultural practices and the welfare of local communities. Empress Naturals is proud to work with women cooperatives for some of our products to empower and support the sisterhood of women worldwide.
- Eco-friendly practices:
More sustainable choices, made out of our care for you and the planet.
At Empress, our shipping materials are all produced using recycled materials. When you open your shipment from us, feel good about your greener choice!
With a dedication to providing you with the highest quality skincare, Empress Naturals uses USDA Certified Organic ingredients. Our partnering suppliers follow best practices for cleaner formulations, and our products contain no chemical preservatives.
We've worked hard to be as plastic-free as possible, reducing plastic components in our packaging and the environment!
Why we are using dark/Amber colored bottles?
Our amber-glass bottles are non-toxic, safely preserving your products, and 100% recyclable.
There is more protection from oxidation of the oils and essential oils, when the glass is opaque and darker
Dark colored glass protects the ingredients from UV light radiation
Founder's Story
Over the years, I have always made a strong effort to use the best skincare products in America. However, about five years back, I noticed my health begin to deteriorate. On seeing a well-known Ayurvedic specialist in Silicon Valley, I was diagnosed with hormonal imbalance. The specialist gave me an insight into how chemicals get into our body through food, creams, lotions, dyes and other products we use every day. These chemicals are dangerous to our hormone levels. After a couple of eye-opening conversations with the doctor about the limitless benefits of natural oils, I became obsessed with the lasting effects over the counter lotions and creams have on our overall health. I sat for hours in front of my computer weaving through search engines and libraries, going through product ingredients and researching what exactly we're blindly putting on our delicate bodies. It was rewarding to sit and understand the chemical composition, benefits, and long-term effects of chemically-based skin care products.
Not too long after, I decided to get rid of all the skin care products I had cherished over the years. I realize now that the chemicals present in over the counter creams and lotions, no matter how expensive, are known to make people more susceptible to cancer and autoimmune disease.
Coupled with all my years of experience as a group product manager and seeking knowledge from professionals, I decided to take my training to the next level by taking several professional courses, reading volumes of books and watching loads of online videos, all to imbue myself with knowledge of the importance of organic products. I'm grateful for my education in management studies because of which I got great training with Nivea skin care as a Group Product Manager
Further, I figured that combining the knowledge I was getting from my research with hands on experience could give me a stronger foundation. So, I put together a team of scientists and experienced natural formulators with whom I discussed chemical formulas and natural preservatives, and together we worked to develop scientifically tested products. Throughout this process, my passion only grew stronger.
During this process, my good friend Pooja Kohli encouraged me to start my own organic skincare line as I was so passionate about organic skincare and natural products The feeling of everytime we would have a breakthrough was intoxicating. My vision was finally becoming a reality.
While I was running around to set things in place to launch Empress Naturals, my mother passed away unexpectedly. Not too long I after, I was involved in a major accident which led to four fractures and being stuck to bed for months. This took a massive blow to my confidence, but I wasn't going to let it stop me. I had come too far. I decided to push harder with even more force than before. After undergoing surgery, I continued my journey with a team of chemists and skincare experts to formulate the best products and come out with a line of top-notch natural skincare of uncompromising quality. With so much determination and perseverance, I knew I couldn't let myself get pulled away from the main goal and would never give up.
Even when I got a rough case of COVID-19, I decided it wasn't going to hold me back from my dream. Out of pure and purposeful motive, I birthed Empress Naturals. After this five year journey of exploring natural solutions and synthetic-free formulations, my passion project will reach out to women aged 40-65 years and provide them with the best skincare products made from certified organic ingredients.
I spent a considerable amount of time and resources sourcing ingredients domestically and internationally with which to make my cream, lotions and oils. I am proud to say that in the last five years, not one single non-organic or chemical product has gone into any of my skincare products. From research, I discovered Rosehip seed oil which is the hero ingredient in all my products and started testing it with different ingredients to achieve desired products. Not to be confused with rose water, which comes from rose petals, rosehip oil (aka rosehip seed oil) is derived from the actual fruit of the rose plant.amber berry-like fruit that grows wild on rosehip bushes The best Rose Hip seed oil comes from
Andes Mountain Region in Southern Chile. The oil's reputation dates back to ancient times when Egyptians, Mayans and Native Americans all used it for its healing properties. Rosehip oil is packed with antioxidants, vitamins A, C, and E, phenolic compounds, as well as fatty acids that help restore and rejuvenate the skin, among other things.
Out of my passion to help women in the age group of 40 years and above, I started gifting some of my products to friends and relatives as presents. To my utter delight, the feedback I got from them was overwhelmingly positive and several even offered to start paying me for more of my products.
I started talking about the importance of natural organic skincare to whoever I could meet, especially women of 40-65 years. Being in this age range myself, I knew from personal experience and stories I had heard that women in this age group tend to ignore their skin due to the time restraints and stress of raising children and/or working on their career. This can leave them vulnerable to the risk of developing health problem like cancer or skin pigmentation, sagging skin, crow's feet or worst, an auto-immune disease. These women also have a high risk of developing hormonal-related health issues, thus, the start of Empress Naturals.
For me, Empress Naturals goes beyond organic skincare with specially selected ingredients; it is a brand that embodies grit, sheer determination and resilience.It was fueled by an undying love for organic products, a robust entrepreneurial spirit, and my passion for building a skincare brand that gives the luxury of trust as well as great benefits for the skin without any potential harm or chemicals that could seep into our bloodstream. Empress Naturals was made with passion, love, tenacity and resilience all wrapped in a bottle.
I sincerely hope each one of you would join me in this journey of chemical and synthetic-free skincare. We must fall in love with nature and its products so we can all live healthily.
A very special thanks to all the women who inspired me and kept me sane through this tumultuous journey !