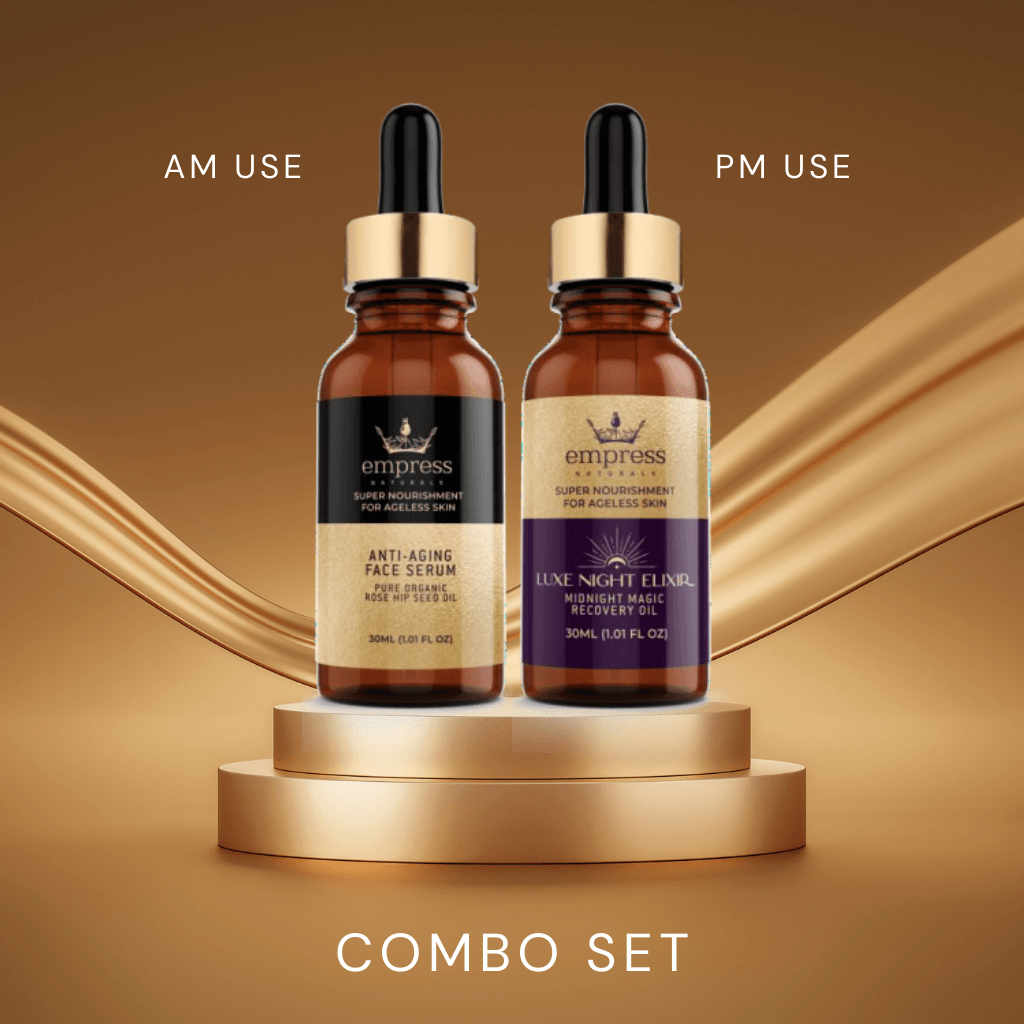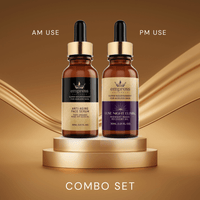 A Promise We Make
We Ensure
Careful Packaging

US Shipping ONLY

Clean
Our combo set comprises both our bestsellers, the Anti-Aging Face Serum and Luxe Night Elixir. You can now avail the benefits of luxurious, rich, and organic skincare two times over!

Start your day with our Anti-Aging Serum, an exquisite composition of two of history's most revered oils Rosehip Seed Oil and Frankincense so you can fight signs of aging before you are exposed to them.
Incorporate the vitamin-rich Luxe Night Elixir in your nighttime skincare routine so your skin can benefit from a shot of potent anti-oxidants and anti-inflammatories to replenish
overtaxed skin.
Take 3 to 5 drops of the AM/PM serum on your fingertips.
On damp skin, using a gentle touch, apply the serum to your face, neck, and ears.
Allow the serum 5 minutes to sink in before continuing with your nighttime skincare routine.
For most women, skincare is selfcare.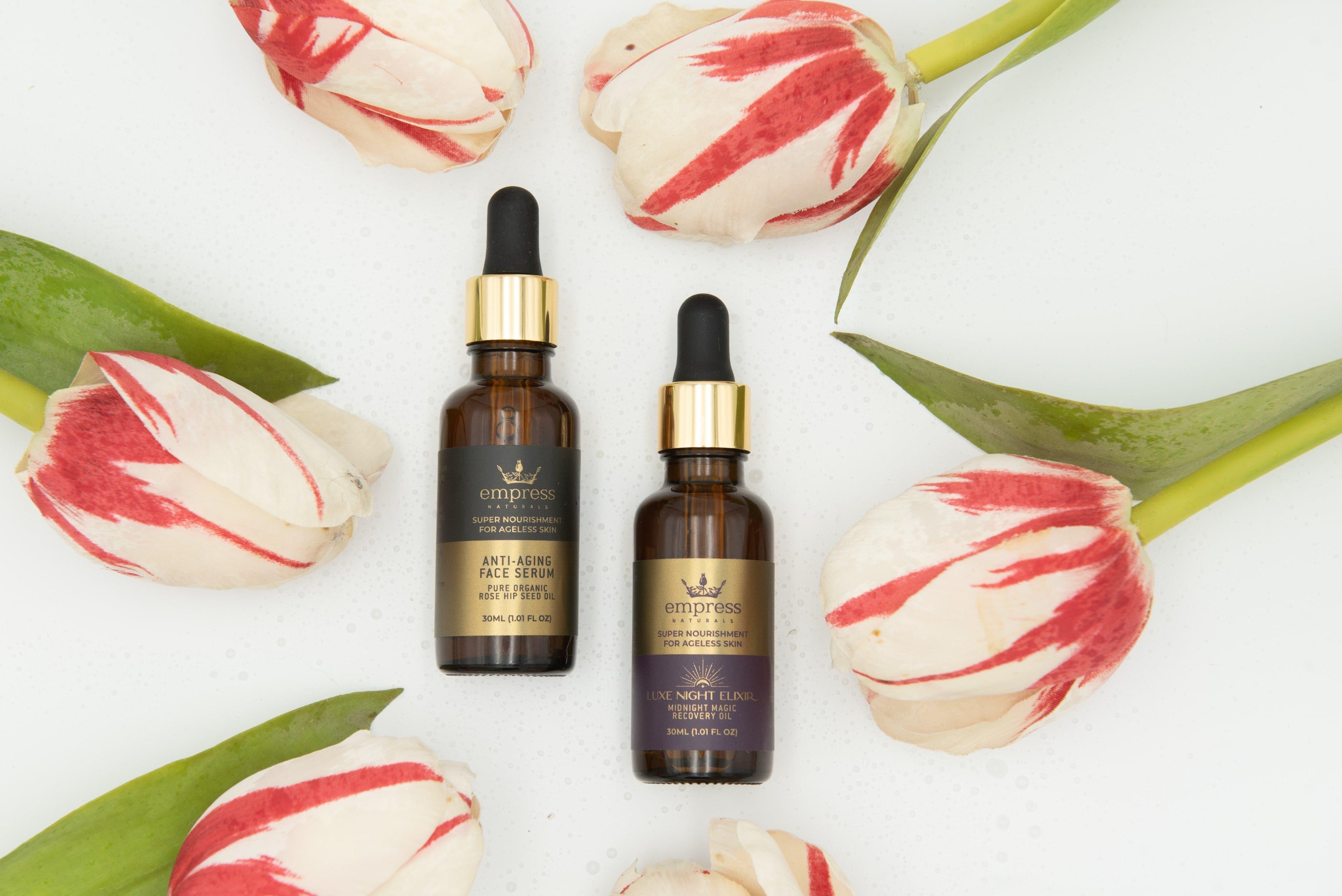 Empress Combo Set
EMPRESS NATURALS PRODUCT
BENEFITS
Skin renewal:
Restructuring linoleic acid helps shed old skin cells for a brighter revitalized complexion
Fights Free-radicals:
Super stable antioxidants provide all-day protection against environmental pollutants and UV damage
Repair skin's barrier:
Fatty acids moisturize and promote regeneration of your skin's protective capacity, encouraging healing in your acid mantle
Anti-Inflammatory and Anti-microbial:
The gentle formula helps soothe irritated, damaged skin while reducing blemishes and unhealthy bacteria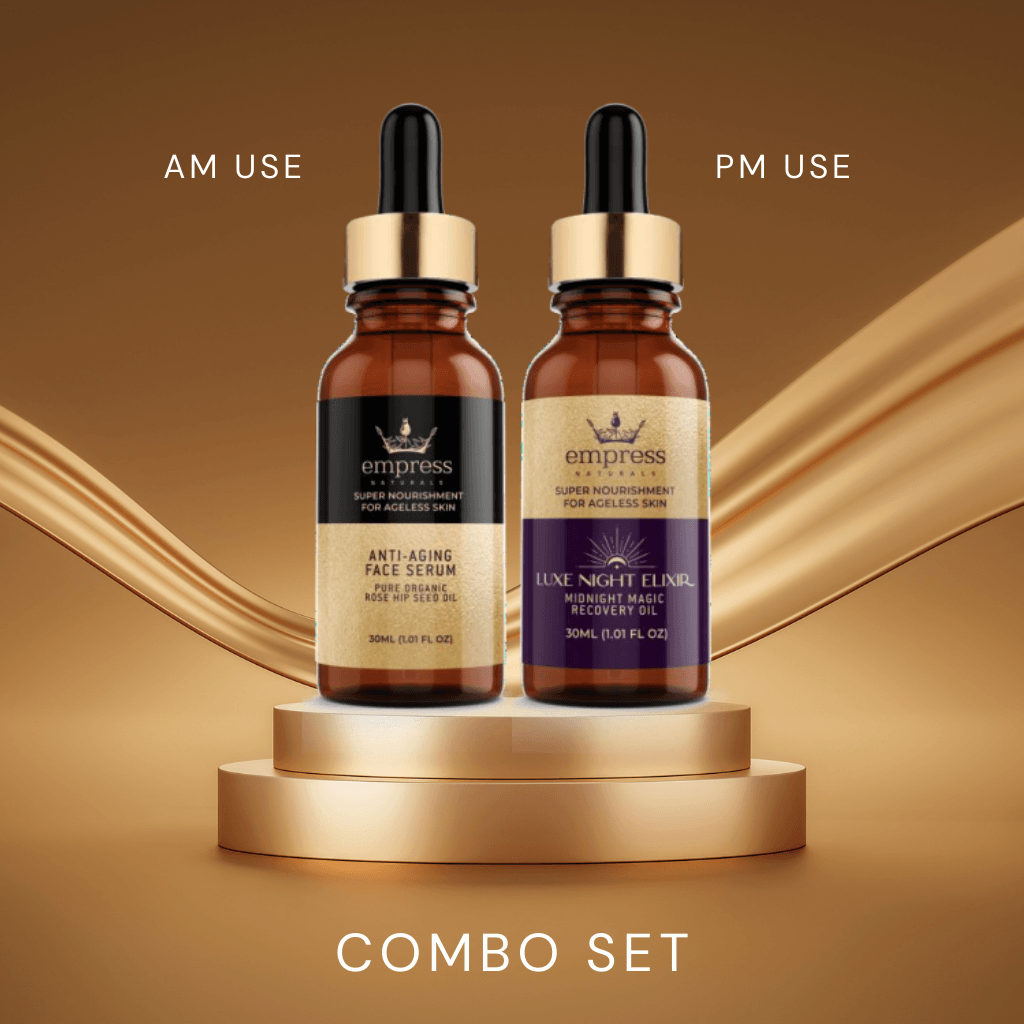 Empress Combo Set
Reduces photoaging:
Antioxidants protect against free-radical damage while fatty acids repair your skin's barrier
Fights fine lines:
Promotes collagen production and boost elasticity for firmer, plumper skin
Improves complexion:
Brightening antioxidants and luxurious oils restore skin's luminosity
Minimizes irritation:
Natural healing agents and anti-inflammatories promote healthier skin, with limited ingredients chosen to prevent over sensitization of your skin